Peter Bright @
The Museum of Dartmoor Life

RECYCLE dartmoor
15 April until 27 May
Touring after with Beaford Arts

Devon? - tape on found cardboard
2003 - 2006
I have been creating images with PVC packaging tape. There are several colours of tape available, ranging from brown to vivid reds and blues. These tapes are transparent and can be used in layers like watercolour paint or lithographic printing. Using tape is a very quick and physical way to create images. The plasticness of the material has a unique quality and is ideal for creating images that are bold, strong, colourful and contemporary. Each layer adds depth and intensity to the colour underneath and like lithography new colours are created as each transparent layer is added.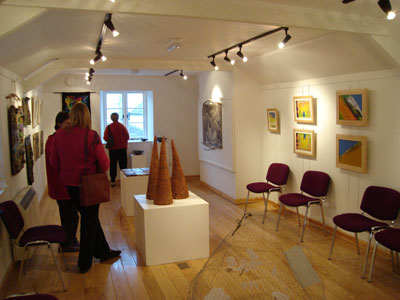 The plasticness of commercial vinyl tapes, their tactile and glossy qualities make them vibrant and alive, when juxtaposed against natural materials or organic colours they become a contradiction, a compliment, more intense and more synthetic.
(Photo and review: Ros Osborn.
North Devon Journal March 2006
The Museum of Dartmoor Life in Okehampton is launching the 2006 season with a new temporary exhibition of work by Devon artists.
RECYCLE is an exhibition of artwork using recycled materials; anything from mud and earth to old tin cans and plastic. The theme of the exhibition is 'Dartmoor' - all the work will relate in some way to the moors - using material found there or simply by artists who work there. More than a dozen artists have submitted work for the show - so there will be an exciting variety of work to see.

The exhibition will be in the museum's newly created exhibition space, part of a major refurbishment of the museum which was completed in 2005 with funding from the Heritage Lottery Fund, West Devon Borough Council and Dartmoor National Park.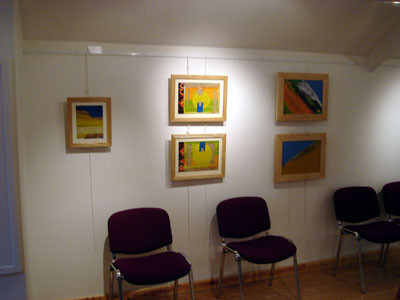 The exhibition opens on 15 April and runs until 27 May; and will be open Monday to Saturday 10.30-4pm.

On 19 and 20 May West Devon Borough Council's Recycling Trailer will be in the museum car park - promoting good practice in recycling and on Saturday 20 May there will be a family workshop - using recycled materials - making flags and banners - this is a 'drop-in' event - no need to book.
Martyn Brown

The Museum of Dartmoor Life, Okehampton - click here for details.
RECYCLE by artists using recycled materials - wool, peat, wood, mud, rubbish and all sorts.
Contact the Curator 01837°52295